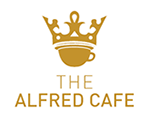 OPEN MONDAY-FRIDAY 6AM-8PM and SATURDAY-SUNDAY 6:30AM-7:30PM
Alf's Cafe introduced an electronic swipe card to streamline the recording of purchases and processing of accounts which has successfully been in operation since October, 2003.
How do I use my card?
To place your purchase on account, simply tender your card to the cafe staff member who will swipe it on the register. The register will record the amount you have expended.
How will I be billed?
Your nominated credit card will be debited weekly OR if there is an outstanding balance and the card has not been used in 30 days. A copy of the tax invoice and your credit card payment receipt can be requested at our office and then will be forwarded to you by internal mail or a nominated address so that you have proof of purchase.
TERMS AND CONDITIONS
1.The cost of a card is $5.00
2. If you wish to put a temporary stop or to cancel your account, you must contact the office to finalise any outstanding amounts.
3. If your card is lost, stolen or damaged, you need to report this immediately to Alf's Cafe Office. Your card will then be cancelled in the computer system and a replacement card will be issued.
4. Alf's Cafe is not responsible for any charges made on your card if it is lost or stolen.
5. It is your responsibility for the safekeeping of the card just as you would if you were carrying cash. If the card is lost or stolen any person can use it until it is cancelled within the card computer system.
6. Alf's Cafe retains the right to amend these Terms and Conditions at any time without notice.
03 9076 8245

info@thealfredcafe.com.au

FIND US
The Alfred Hospital
23-81 Commercial Rd, Melbourne VIC 3004